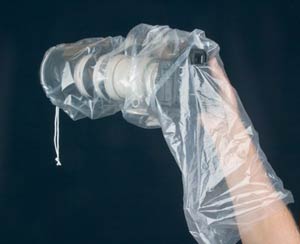 More Images:




Click here for Instructions for this product.
For the same protection when using a flash, see the Rainsleeve™ – Flash – 2-Pack version, FlashZebra.com Item #0247.

Be prepared for the unexpected by always bringing along a Rainsleeve™
Compact design fits easily in a bag or pocket
Designed for handheld use or tripod application
Unique eyepiece opening adapts to most viewfinders for viewing through the lens - not through plastic!
Camera and lens controls are easily visible and operable
Drawstring lens opening offers easy access and a snug fit
Includes two per package
The Rainsleeve™ from OP/TECH USA is the must-have accessory for avid outdoor photographers, offering a shield from the elements (from rain, sand and snow) that fits easily in the pocket or camera bag.
It features a unique eyepiece opening that adapts to most camera viewfinders, allowing composition of shots through the camera's lens, not through the plastic.
All camera and lens controls are easily seen and operated through the Rainsleeve™.
It can be used either hand-held or on a tripod.
If shooting with a long lens, the tripod mount can be attached directly through the pliable plastic.
The drawstring enclosure will fit any lens up to seven inches (17.8 cm) in diameter and up to 18 inches (45.7 cm) long.
Price: $6.00 + shipping