RSS Feed:

Subscribe to our RSS feed for information about products and tips to help photographers use their flash gear more effectively. Use this button:
or go to the RSS page.
Twitter:
Get the same announcements of new products and tips by following FlashZebra.com at twitter.com/flashzebra.
Customer Comments:
See what FlashZebra's customers are saying. Find links to comments on the web here.
IMPORTANT NEWS:
FlashZebra is now a part of MK Controls, Inc., home of the Lightning Bug™.

Rumours of our demise have been greatly exaggerated, we are still here, just under new ownership. We strive to ship all orders within 3 business days. We are committed to providing the same expert service and support customers have come to expect from FlashZebra, and we appreciate your business!
PLEASE NOTE:
Due to circumstances beyond our control, we are suspending ALL shipments to Australia and the United Kingdom.
SHIPPING DELAYS EXPECTED:
Due to the pandemic, shipments outside of the USA are experiencing significant delays, especially to EU countries where new laws are causing lengthy processing times in customs. We apologize for the inconvenience.
About FlashZebra:
FlashZebra is a business focused on manual off-camera flash, both small hotshoe-type flash and studio flash. FlashZebra offers custom adapters and flash cords that most photographic merchants pass over due to lack of volume, including speciality items for those wanting to customize their own flash gear.
Comments and suggestions are appreciated.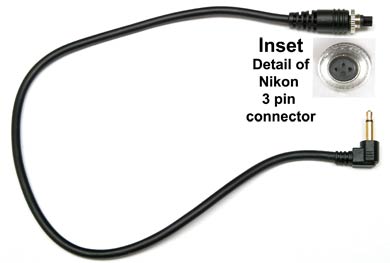 Featured new product:
Item #0208 Nikon 3 Pin to Miniphone Mono - 35cm - For Pocket Wizard, Skyport, and CyberSync
–
This adapter plugs into the proprietary 3-pin port available on many Nikon SB flash units and provides flash sync for a Pocket Wizard, Skyport, or CyberSync receiver.
MORE ABOUT THIS ITEM...