RSS Feed:

Subscribe to our RSS feed for information about products and tips to help photographers use their flash gear more effectively. Use this button:
or go to the RSS page.
Twitter:
Get the same announcements of new products and tips by following FlashZebra.com at twitter.com/flashzebra.
Customer Comments:
See what FlashZebra's customers are saying. Find links to comments on the web here.
About FlashZebra:
FlashZebra is a business focused on manual off-camera flash, both small hotshoe-type flash and studio flash. FlashZebra offers custom adapters and flash cords that most photographic merchants pass over due to lack of volume, including speciality items for those wanting to customize their own flash gear.
Comments and suggestions are appreciated.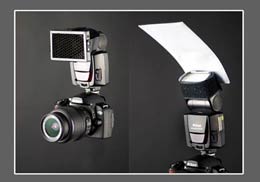 Featured new product:
Item #0250 Grids ⁄ Snoot ⁄ Bounce Set
–
A kit with four different accessories to attach to your flash to concentrate or bounce light, with more or less dramatic effect.
MORE ABOUT THIS ITEM...