Item #0052 12 Inch — Male PC to Male PC Sync Cord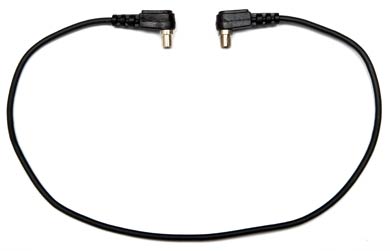 This cord can be used to connect the Nikon SB-24, 25, 26, 27, 28, 28DX, 80DX, 800, 900 and the Canon 580EX II to a device requiring a standard male PC connector.
One common application is to connect these flash units to an optical slave such as this product from FlashZebra.com.
Another common application would be to connect these flash units to the 4 channel V2, or V2s style of inexpensive radio slaves sold by Gadget Infinity, and other photographic merchants.
See Item #0097 for a heavy duty coiled cord from FlashZebra.com.
For a more secure connection on the Nikon SB and Canon 580EX II listed above, use this version of the cord (FlashZebra.com Item #0108) that has a Screwlock PC for the flash end of the cord.
Price: $4.50 + shipping