Item #0287 Coiled Shutter Cable - Nikon MC-DC1 to Pocket Wizard Plus III, Flex TT5, and later Multimax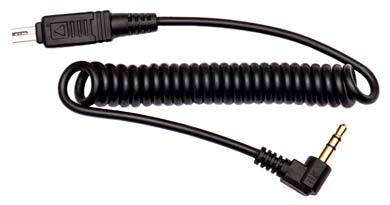 Features / Notes:
For Pocket Wizard Plus III, Flex TT5 and the latest Multimax models.
Not for Pocket Wizard Plus II, Pocket Wizard Plus X, Pocket Wizard Plus, or the original Pocket Wizard.
Allows remote firing of the shutter on the cameras cited below (see list).
Allows the camera shutter's pre-release condition to be turned on and off remotely.
Medium-duty coiled cable and approximately 10 inches (25cm) long relaxed and over 24 inches (61cm) extended.
Gold plated, right angle miniphone plug.
Metal connector for camera end.
Similar in function to Pocket Wizard Cable NM4-ACC.
Use with these cameras:
Nikon Digital:
Price: $27.50 + shipping