Item #0233 Male HH to MiniPhone Jack Adapter (3.5mm - 1 ⁄ 8")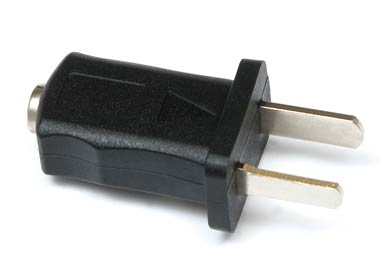 Features:
Compact design
One end is a male HH (household) connector
HH connector is polarized with the thinner blade being positive. Units are individually hand machined so one blade is thinner, to indicate polarity.
Other end is a mono miniphone jack (3.5 - 1 ⁄ 8", female, two conductor, TS)
Used to convert the common HH connector used on many studio and other flash units (see partial list) to the reliable and also common miniphone plug.
Fits these flash units:
Most Speedotron studio flash
Most Novatron Studio Flash
Dynalite studio flash
some Norman units
some Lumedyne
some Quantum
Sunpak 555, Sunpak 120J (non TTL units), Sunpak 622
Vivitar flash units with the "Holly Enterprises" flash foot modification
Honeywell Strobonars
and many other flash units that use the HH connector (see photograph of flash connector for reference).
Price: $18.50 + shipping